RubiksCubeArt Project Gallery
Items shown here are recent designs and/or completed projects.  All projects are made to order based on your image and your specifications.  The possibilities are endless…
Retirement Gifts
High School & College Logos
Birthday Presents
Holiday Gifts
Corporate Logos
Anniversary Gifts
Sizes of Gallery Projects
Blonde Woman … 300 cubes
Christmas Tree … 238 cubes
Michigan … 260 cubes
Menorah … 289 cubes
GT Logo … 270 cubes
Farmers … 374 cubes
Gator Small … 97 cubes
Gator Large … 378 cubes
Man … 300 cubes
Coach K … 375 cubes
McCartney … 324 cubes
Texas … 210 cubes
Rosewood Poster … 280 cubes
Selecting the Perfect Image for RubiksCubeArt
Color Tips
Colors in your photos are mapped to either White, Yellow, Orange, Red, or Blue.  Green looks best only when it is representing actual green in the photo or logo.
For a face, if the background is white, then teeth and eyes might have some white, while yellow and orange and some red will be used for skin tones.  If the background and clothing is darker, then a face will often become mostly white with yellow and orange being used for the facial details.
Photos with Purple, or Brown do not represent well unless you are willing to have Blue map to these darker colors, or use a much larger project size where Purple can be alternating red and blue pixels, and brown could be a combination of colors.  In the case of Black, it will likely map to Blue, leaving fewer colors for the rest of the project.  In some cases, small areas of black could be represented by removing the sticker or coloring over the sticker with a sharpie by the end user.
In head shots, it is important to avoid clothing that matches the subject's face or background color.  The head will appear to be shaped oddly, or float in the center of the image.
Photo Backgrounds
Photos sent to us for design can be .jpg files of any resolution.  We will scale down the photos to form the pixelated image.
Please make sure the subject has a neutral, light background or your project could be delayed if we have to add a Photoshop step to remove background noise.
Busy backgrounds and patterned clothing tend to take away definition from the main subject
Here is an example of a difficult face to pixelate followed by a great photo: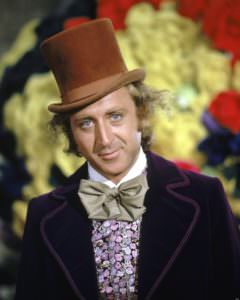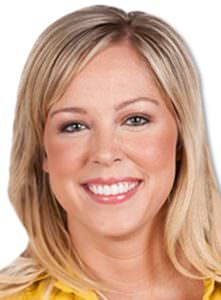 Logos and Clip Art
These can make some really great cube mosaics even at low resolution.  Logos with text and more than 5 colors, or logos that depend on Black or Brown will not be represented as well in a smaller project.
Flags that are mostly geometric will also represent well at all sizes
Logos with small print will need larger number of pixels for a good outcome.
Perfect choices for pixelated cube art: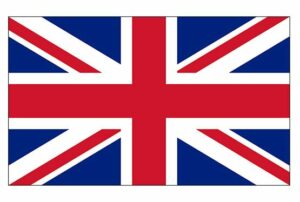 More intricate examples that which will require more cubes, but great colors for cube art: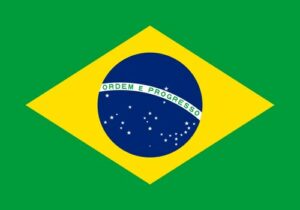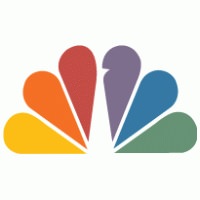 Feel free to email us anytime at RubiksCubeArtOrders@gmail.com.  We will be happy to answer your questions regarding your images.  For the best approximation of what your project might look like at different resolutions, purchase our Design Service and we will show you proofs of your photo at different resolutions so you can make a more informed decision.  You will receive a coupon for the cost of the design service that you can apply toward your order of that completed project.
Step 1
Choose Your Project Options
Regular (5.5cm) or
"High Definition" (3cm) Mini Cubes

For Tips on Choosing a Size, See our Mosaic Options page.  Then order your cube size and number for your project.
Step 3
Review Your Design Proof
Check Your Inbox For Your Design Proof.  Revisions are Free until approved by you.
When: Within 3 Business Days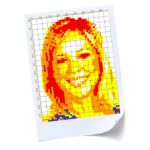 Step 4
Receive Your Completed Project
Your Finished Project is Delivered
Fully Assembled or in sections for easy Final Assembly on-site (larger projects)
When: 2-4 Weeks from Proof Approval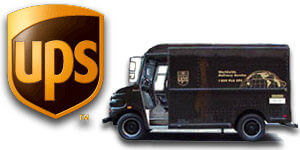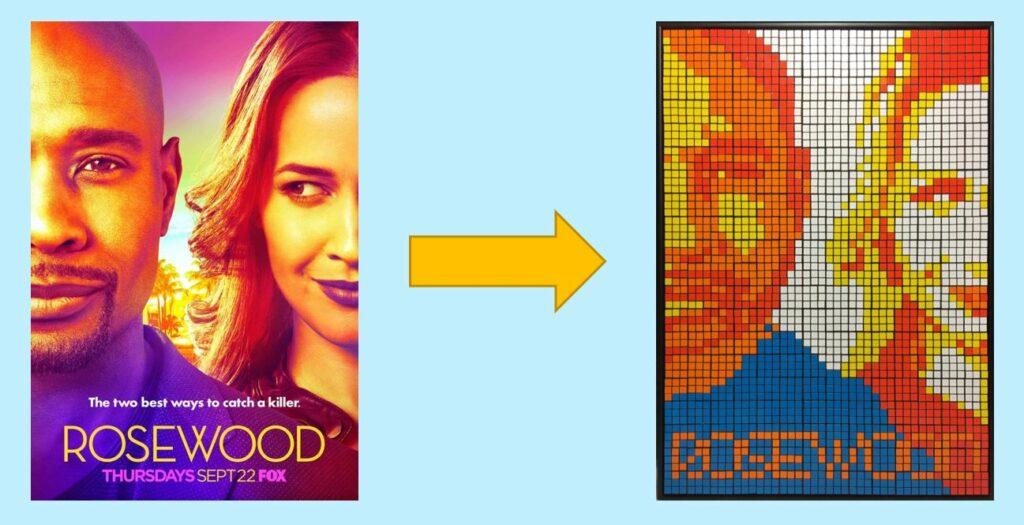 ONE OF OUR FIRST PROJECTS
Check out this Television Show Poster Made from 280 Cubes
Ordered in 2016 by the Producers of the FOX Television show "Rosewood"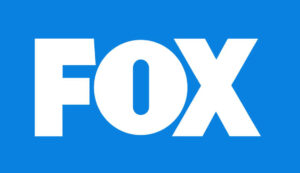 CHECK OUT OUR LARGEST PROJECT
RubiksCubeArt.com Made these twin 441-Cube Mosaics to order for Warren Buffett's Oriental Trading Company Headquarters in Nebraska.
Time from initial order to shipping was only 3 weeks!